They should really rename it that. We could change the parties' names too; the Democrats could be called Autobots and the Republicans could be Deceptacons. But I digress. And regress, it would seem, into my childhood.

I've already said that I support Hillary Clinton. I would say I endorse her, but I don't think a blog that has had about 4 people read it is in any position to endorse anyone. I think you need to be in some kind of influential position to do that.

Anyhoo, if you are in one of the 24 states with primaries today, be sure and vote! Even if you aren't voting for Clinton.

The Super Tuesday Super-States are:

Alabama
Alaska
Arizona
Arkansas
California
Colorado
Connecticut
Delaware
Georgia
Idaho (Democrat only)
Illinois
Kansas (Democrat only)
Massachusetts
Minnesota
Missouri
Montana (Republican only)
New Jersey
New Mexico (Democrat only)
New York (woot)
North Dakota
Oklahoma
Tennessee
Utah
West Virginia (Republican only)

Apparently they are already calling West Virginia for Mike Huckabee. The only solace to be found in that is that he wouldn't be hard to beat in a general election.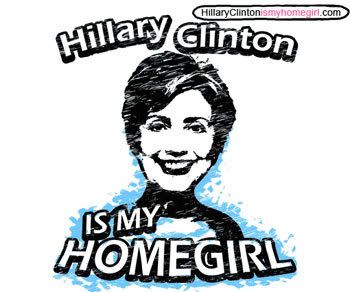 P.S. I do actually have a Hillary Is My Homegirl t-shirt.